Best sealant for bathrooms?
Best sealant for bathrooms?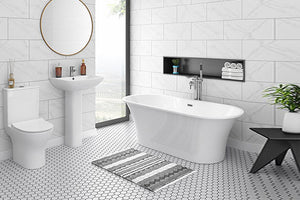 So you have just completed fitting a new bathroom and are face with the dilemma of what sealant to use to make sure you get the best quality finish.
Your scratching your head as the range of sealants available seems never ending so which one do you choose?
The main issue that occurs with using cheap or low quality sealants in bathrooms is the growth of mould. This usually begins with small dots on the surface which then develops to making the sealant turn black and an outright eye sore.
Furthermore the growth of mould on the sealant usually cause the sealant to weaken over time causing it to deteriorate which usually results in leaking.
Depending on the surfaces your applying the sealant to; we would recommend using a high modulus silicone based sealant with added fungicide. Two of our best sellers are Everbuild's Forever White which claims to have a 10 year guarantee against mould growth. This silicone comes in a variety of popular colours to best match your application.
Another great selling product which has been specially formulated for bathroom and sanitary applications is DOWSIL 785. This premium silicone, contains a fungicide to resist mould growth and has even been tested against salmonella, E. coli and MRSA.
Still unsure?
Have a look through our great range of BATHROOM & SANITARY sealants to see which one best suits your needs and budget!